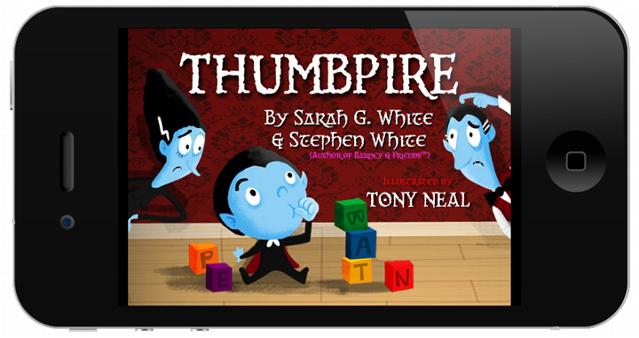 Welcome to the official THUMBPIRE website - we're glad you're here!
THUMBPIRE is the story of a little vampire who needs to somehow stop sucking his thumb so that his fangs can grow in - but it won't be easy!
Helping Thumby break the habit is a big job - not just for his parents, but for an entire community of comically helpful monsters!
THUMBPIRE features beautiful illustrations by Tony Neal, "vampire narration" or "read it yourself" options, funny rhyming text, and music or sound effects on every page which play with a tap from a young reader's finger (or thumb!)

Kid-pleasing and family-friendly, THUMPIRE is an ebook that everyone can sink their teeth into!

Available for Apple & Android devices by clicking the icons below

Also from Stephen White & Tony Neal: "AlphaBELCH"
An animal A-to-Z book with a different burp on every page!
(

And

a parent-pleasing message about manners)